To start with a premium glue, Titebond 2 and Titebond 3 come to our mind first. Similarly, you will get to see a mere juxtaposition of Titebond 2 Vs 3 as well. Now the question is, which glue will be the best one? 
If you see, Titebond 2 working time and Titebond 3 working time have some sorts of differences. Likewise, Titebond II has water-resistant properties, and Titebond III is more water-resistant than that. Besides, Titebond 3 is more powerful than Titebond Titebond 2.
However, there are a lot more differences between these two types of Glue composition. To know about them, keep going through this article. You will find your best match here.
Difference Table For Titebond Ii Vs Iii
| | | |
| --- | --- | --- |
| Features  | Titebond 2 | Titebond 3 |
| Viscosity  | 3,200 cps | 3,400 cps |
| Chalk temperature  | 55 degree F | 50 degree F |
| Strength  | 3750 psi | 3600 psi |
| Open time | 5 minutes  | 5 minutes |
| Exterior use | Yes | No |
| Dry Time | 24 hours | 24 hours |
| Setup time | 10 to 30 minutes  | 6 hours |
| Food safe grade | Yes | Yes |
Which Is The Best Titebond Glue To Use?
While looking for the best Titebond glue, Titebond III Ultimate wood glue can be your true substitute. Indeed, Titebond Ultimate is no less than a versatile glue. It has a longer working time, water-resistant to a type-1 level. Titebond 3 is certified by the ANSI standard. Also, it provides superior strength within a low-temperature application. 
1. Titebond II Glue
Titebond II is a famous product of adhesion where you will get water-resistant properties. By taking a limited 24 hours, Titebond 2 forms a nice strength bond and typically sets within 10 to 30 minutes. But yes, the moisture of wood also depends on when this glue starts to set up. Besides, it has no toxic substances or flammable ingredients. 

Highlighted Features 
Sets in 10 to 30 minutes
Takes 24 hours to form a strength bond 
A non-toxic glue
Pros
It can be used smoothly 
Does not produce flammable conditions 
Effective in price
Cons
Less stronger than Titebond III
Titebond II FAQ
Is Titebond Ii Pva Glue? 
Yes, Titebond II is a PVA glue as it consists of water-resistant properties. Just like Titebond II, Titebond III is also a PVA glue.
What Is The Assembly Time For Titebond International 5005 Ii?
Well, the assembly time for Titebond International 5005 is 10 to 30 minutes.
Is Titebond 2 Waterproof?
Particularly, Titebond 2 is a water-resistant glue giving grid performance in adhering. However, projects remaining in light water can gently work with Titebond 2.
Can Titebond 2 Be Thinned?
Yes, Titebond 2 can, of course, be thinned but in a sequential process. Before thinning the glue, you should first tap your container multiple times on a hard surface. As a result, the container will lose up and will be ready to thin up with water. 
Is Titebond 2 Stainable?
It does work best on unfinished painted surfaces, especially unsanded prime woods. This means it works best on furniture with either old paint or an unfinished finish. If you are looking to take the durability of wood and the beauty of stain out onto your finished surface, titebond 2 is perfect for that project. So, technically, Yes. Titebond wood glue is stainable.
How Long Does Titebond 2 Need To Be Clamped?
Titebond 2 glue needs to be clamped for about 30 to 60 minutes.
Is Gorilla Wood Glue Better Than Titebond?
Other than Titebond III, Gorilla Wood Glue adheres to many substances, especially in filling gaps. 
How Long Does It Take Titebond 2 To Dry?
Within 24 hours, Titebond 2 glue dries completely. 
How Long Does Titebond 2 Need To Be Clamped?
Titebond 2 glue needs to be clamped for 30 to 60 minutes. 
Is Titebond Ii Food Safe?
Yes, Titebond II glue is food safe.
How Do I Use Titebond 2?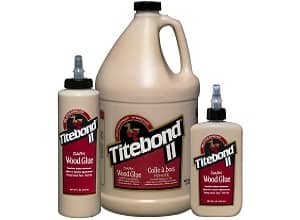 Titebond 2 is as strong as any wood to assure a good glue bond. However, all boards should be machined 90 degrees from the edge to the face. And in entire length, it should take very little pressure, which can be done on a table saw, jointer, or even a router.
All stock should be at the same moisture content or acclimated to the area in which they will be machined. To do it, you can stack boards around the wall to allow air to get to two sides or stricken them, providing the correct amount of glue. 
Now, apply a thin, even layer of glue to both mating surfaces putting glue on one edge and rubbing it onto the other. When glueing edge grain faced grain and end grain. 
Then try to put the grains together so that each of the straws is matched perfectly. Next, apply soneTitebo d II on what becomes faced grain.
These boards first need to be milled to make sure the edges are 90 degrees to the face. Then apply your interior woodworking glue evenly to both edges.
The panels are clamped for 30 minutes with enough pressure to spread the glue and hold the boards into alignment until the glue sets. Then give an additional half turn on the clamps.
Before Titebond 2 glue completely hardens, but after it's lost that wet look, this joint should not be stressed for 24 hours to allow for a full glue cure. Check How to unglue titebond wood glue.
2. Titebond III Ultimate Wood Glue
Being an Ultimate Wood Glue, Titebond III never lacks behind in delivering superior strength. And because of having a waterproof formula, this glue can clean up without any barriers.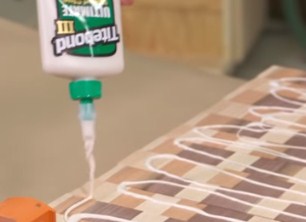 Moreover, Titebond III has a designation of being used in different applications, e.g. interior and exterior. Again, anyone can use it while indirect food contact as well. 

Highlighted Features 
Contains waterproof formula 
Good for interior and exterior applications 
Owns superior strength 
Pros
It is never affected by finishes
Can clean up being in the water
Adapts in indirect food contact 
Cons
3. TITEBOND 1 Gal Ultimate III Wood Glue
All being well, Titebond III and Titebond 1 Gal have no differences at all. Just the above product is smaller in size, and Titebond 1 Gal is bigger. Similar to Titebond III small pack, Titebond 1 Gal also acquires waterproof formula.
Henceforth, it easily cleans up with water by maintaining superior strength. In addition, there will be no effects on finishes and can be used in indirect food contact.
Again, this Titebond III would be the best one whenever lots of appliances are needed for interior and exterior applications.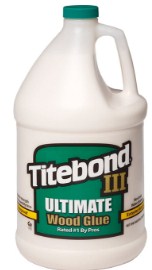 Highlighted Features 
Acquires waterproof formula 
Maintains a superior strength 
Ideal for interior and exterior use
Pros
Does not affect any finishes
Gets cleaned with water easily
Lasts for a long time
Cons
Gives no better results when applied randomly 
Titebond 3 FAQ Basic
Titebond 3 Working Temperature
Nevertheless, Titebond 3 has a working temperature of 47 degrees F.
Titebond 3 Working Time
On a note, Titebond 3 works in an open assembly time of 10 minutes and in a total assembly time of 20 to 25 minutes. 
Set Time For Titebond 3
Though Titebond 3 has a clamping time of 30 to 60 minutes, it takes almost 24 hours to set and cure. If you see, Titebond 3 gets cured in 6 hours.
Titebond 3 Strength
The strength of Titebond 3 glue is 4000 psi. 
Is Titebond 3 Any Good?
Titebond 3 is more water-resistant than any other glue, and it is a good glue you can have. Furthermore, Titebond 3 is an ideal alternative for exterior applications in place of a longer drying time. 
How Long Does Titebond 3 Take To Set?
The clamping time of Titebond 3 ranges from 30 to 60 minutes. Similarly, it takes about 24 hours to set properly and get allowed to cure.
What Is The Working Time Of Titebond Extend?
Just like its name, Titebond Extend takes an extended time to work. Anyways, to build up a strong bond, Titebond Extend work flawlessly after working for 24 hours.
How Long Does Titebond 3 Take To Dry? 
Well, the overall timing of Titebond 3 to dry is 24 hours. Again, the titebond 3 dry temperature will get its exact form after being processed for a day. 
Is Titebond Iii Really Waterproof?
Not knowing, Titebond III is not a glue designed for using underwater lines or continuous immersion. Still, it meets all standards of being a perfect waterproof glue and ANSI/HPVA standards. 
Will Titebond Iii Fill Gaps
How Long Should Titebond 3 Dry Before Sanding?
Titebond III does not play any significant role in filling gaps. If you want to fill hard gaps, then Gorilla is the right choice for you. 
Nobody should stress new joints for 24 hours after fixing them with Titebond 3 glue. And remember the titebond 3 dry time before using it.
How Long Should Titebond 3 Be Clamped?
After going through the bottle of Titebond 3, we got to know that this glue clamps for a minimum of 30 minutes.
How Long Does Titebond 3 Last?
By considering the shelf life of Titebond 3, it lasts for one to two years. 
How Long Does Titebond 3 Take To Cure?
Yet, Titebond 3 glue is allowed to be cured in 24 hours approximately. 
Set Up Time For Titebond 3
Indeed, Titebond 3 has a clamping time of 30 to 60 minutes and sets completely in 24 hours.
What Is The Difference Between Titebond 2 And Titebond 3?
Including price and performance, Titebond 2 and Titebond 3 also vary in resistance. If Titebond II is water-resistant, Titebond III is more water-resistant. 
Projects that are exposed to light water get adequate stickiness with Titebond 2. Contrastingly, projects with ambient moisture always suffice when they get an appliance of Titebond 3.
Let's Check Other Notable Features-
Water Resistance
As mentioned before, Titebond 2 and Titebond 3 are water-resistant glues. To be more particular, Titebond 2 is more resistant against water, being waterproof every time. Especially for those projects which remain exposed to light water, it will suffice with Titebond 2. Such as outdoor furniture, cutting boards, etc. On the other hand, Titebond 3 performs well for projects that are exposed to ambient moistures. 
Titebond Open Time
Considering the open time, Titebond III is double of Titebond II. If you are facing any kind of complex glue-up, Titebond III would be the right one for you. But for an increased open time, nothing can be better than Titebond Extend. 
Bond Strength And Gluing Process-titebond 2 Vs 3 Strength
However, Titebond 2 and Titebond 3 do carry lots of differences in strength. If you see, Titebond 2 has a strength of 3750 psi, whereas Titebond 3 has a strength of 3600 psi. The minimum temperature during application is 55F. Different people achieve different results in different time periods.
Titebond 2 Vs 3 Dry Time
Titebond II eliminates the need for trips to the store, as it dries in 24 hours, which means more time for your projects. The temperature and humidity in the glue box play a big role in how fast or slow the glue cures. Titebond 3 also takes the same amount of time
Price
The main thing we all consider merely is price. Especially for those who are not ready to spend much, shall choose Titebond II. It costs about $10.49. On the flipping side, Titebond III is also a great adhesive, but costs more. Well, this glue is available in the market at $13.99.
---
Will Both Work On Wet Wood?
Both Titebond II and Titebond III adapt amazingly in dry woods. But when it is about wet woods, they somewhere lack behind in delivering the best results. 
Can You Mix Titebond 2 And 3?
Well, Titebond II and Titebond III are almost the same. If Titebond 2 is water-resistant, Titebond 3 is also like that but more water-resistant. Although these two types of glue differ in price, their performances are not so different from each other. Therefore, you will hardly see any hindrances while mixing Titebond 2 and Titebond 3.
Which Is Stronger Titebond 2 Or 3?
No doubt, Titebond 3 is stronger than Titebond 2. If budget is not a barrier for you and all that matters is performance, Titebond 3 is the one. 
What Materials Do Titebond Wood Glues Work On?
Here are some materials below where Titebond glue works on:
Vinyl and HPL
Bonding wood
Porous substrates
MDF
Synthetic materials, like- melamine
Titebond Works On:
Wood
Paper
Fabric
Cardboard
Leather
Titebond Doesn't Work On:
Plastic of any kind
Metal
Glass
Ceramics
Stone
Any other non-wood material
Titebond Wood Glue Ingredients
Polyvinyl acetate
Diethylene glycol monobutyl ether
Polymethylene Polyphenyl isocyanate
N-methylolacrylamide
Paraffinic oil
Titebond 1 vs 2 vs 3 
To be more particular, anyone can rely on Titebond 1 glue for woodworking. Along with a fast speed of set, Titebond original provides a strong initial tack too.
Titebond 1 ensures a good standability and a stronger bond in the woods without being unaffected from finishes. Furthermore, Titebond Original is no less than a high-quality adhesive having a resin emulsion. Thus, to give a short clamping time, this glue dries very quickly. 
In contrast, Titebond 2 is also an exclusive glue that is effective for interior uses. Also, Titebond II is water-resistant like Titebond III.
But if you compare Titebond II with Titebond III, Titebond III is more water-resistant. Besides, it supports extended periods as well. 
Titebond Wood Glue Shelf Life
In general, Titebond Wood Glue has a Shelf Life of one to two years.
Titebond Wood Glue Expansion
Well, Titebond II Extend Wood Glue is no less than a high-quality glue. To give a weatherproof performance, Titebond Expansion contains water-resistant substances with a set of slower speeds. Besides, exterior applications with complex assemblies are ideal for Titebond Wood Glue Expansion. 
What color is it when Titebond dry?
All Titebond glues are not the same when they get dry. In terms of Titebond Original, it gets the colour opaque light yellow colour.
Coming to Titebond II, it is more like a premium translucent yellow colour after getting dried.
Again, Titebond III has some crushed walnut shells. Henceforth, it gives a texture of light-brown colour once dried.
The Best Alternatives To Titebond 2 And 3 Pva Glues
Gorilla Clear Glue is the best alternative. It bonds solid and provides a rigid, permanent bond on All metal items, such as: Door hinges, Gaskets, Hinges of all types, Pop rivets, Railings, Power Locks and More!
Gorilla Clear Glue is a non-toxic, water-based woodworking glue that has a clear, quick-drying formula. Most woodworkers find it convenient for easy removal from paper and canvas without damaging the artwork. It's also great for use on styrofoam cups and any other porous surfaces as well as papercrafts.
Gorilla clear glue is easy to use and can quickly and easily repair cracks, chips, and scratches on exterior surfaces. It cures quickly and is tough enough to be reusable after it is dry.
Check Glue for MDF Reviews with Buying Guide
Titebond II Premium, Titebond III Ultimate
Frequently Asked Questions 
1. What Is The Working Time Of Wood Glue?
When it comes to Titebond, this glue takes 30 minutes to 1 hour to clamp an unstressed joint. On the other hand, stressed joints are good to be clamped on for 24 hours. All in all, Titebond recommends not to stress joints for up to 24 hours. 
2. Can You Use Titebond 2 For Cutting Boards?
Yes, can use Titebond for cutting boards and outdoor furniture too. However, Titebond Original is specifically used for interior tasks only. Titebond 2 is a water-resistant glue, and that's why Titebond 2 works great while cutting woods and furniture.
3. Is Titebond 2 Toxic?
As Titebond 2 is a solvent-free glue, you will not find any toxic substances here. Hence, fixing toys, cutting boards, furniture, etc., is like a cakewalk for Titebond 2 glue. Especially where you are looking for safety and strength, this glue can work like magic.
4. Is Titebond Original Wood Glue Food-safe?
Yes, Titebond's original wood glue is food-safe. In brief, FDA says Titebond can be used in indirect food contact since it is free from solvents and toxic agents. 
5. Can I Use Titebond On Cutting Boards?
Titebond glues, like- Titebond II and Titebond III, are great for use on cutting boards. The reason is, Titebond glues are water-resistant and do not contain any toxic substances. Therefore, Titebond is a nice alternative to use on cutting boards.
6. How Long Does It Take Titebond Quick And Thick To Dry?
Similar to traditional PVA glues, Titebond's quick and thick sets double and dry clearly. Again, this glue conveys a nice impact resistance being flexible throughout. Titebond Quick and Thick also owns a strong initial tack, where you will get 3 to 5 minutes of open time and 15 minutes of a set time.
7. Does Titebond Original Wood Glue Dry Clear?
Generally, Titebond Original Wood Glue is aliphatic resin-based. As a result, it gets cleaned easily and gets engaged with non-toxic ingredients. Moreover, Titebond glue works well on different woods, prevailing at a faster-setting speed and initial tack with high strength. Thus, it reduces the clamping time and eventually never dries clear.
Conclusion 
Hopefully, you got to transpire a nice idea about Titebond 2 Vs Titebond 3 from the above. Similarly, if you see, the difference between titebond glues is not too huge in terms of quality. But yes, each of their set time, drying time, opening time vary a little bit. 
In brief, we can say Titebond 2 is a good option for water line projects. On the other hand, Titebond 3 is also a relevant glue providing more strength than Titebond 2 but higher in price.
If quality is more important for you than budget, go with Titebond 3. Or else, Titebond 2 is nowhere less in adhesion as well. Hope these Differences Between Titebond Glues and Titebond help a lot to find out the best one.