Cedar woods are undeniably attractive, versatile, and decay resistant. Most of us prefer them for deck and fence woodworks. But the assembling or fastening comes first when you are crafting cedar decks. Screws are better at this than adhesives, nails, or other fasteners.
The best cedar deck screws can increase the durability of decks or furniture. They do not get rust sooner or wear off. Even they can withstand any structural constraints and corrosion of natural or chemical preservatives.
Precision in the choice of screws for cedar decks may often seem more challenging. You do not have to worry because you are here. We are sharing expert reviews of the finest units sold for cedar deck constructions.
Editor's Recommendation: Top 3 Cedar Deck Screws
Best Cedar Deck Screws Reviews
Pressure-treated, cedar, redwood – whatever wood you are using, keep one thing in mind. The selected screws should be code-compliant and rust-resistant.
Usually, these are made of stainless steel, coated with ceramic, or even galvanized. Therefore, let us spend a moment to fine-tune the top-quality screws for cedar deck and furniture with their traits:
1. Eagle Claw Stainless Steel Screws for Cedar Deck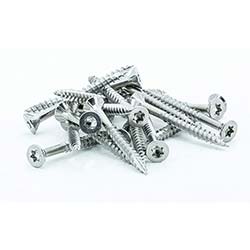 Eagle Claw has taken first place in our cedar deck screws list. This company builds versatile screws. Right now, we will be talking about Type 17 point 8 X 1-5/8″ screws.

These screws are made of type 304 (18-8) grade stainless steels. Stainless steel screws are great for giving life to the wood decks, furniture. You can also use them to finish fencing, outdoor, coastal etc. woodworks. These silver color screws come in 100, 350 and 1750 counts packages.
Eagle Claw screws hold the oak, walnut, treated woods more time than you can think. Stainless steels keep rust far away in any wet environment or heavy pressure. So, the shape of the deck remains intact.
The Star Drive (Torx) head increases the driver life and protects the screws from coming out. You can use these useful mini tools to work with hardwood, softwood, and other pressure-treated woods. DIY or professional wood crafting and repairing – 8×1-5/8-inch screws are great.
Pros
Engineered for increased longevity of driver
Made of Type 304 (18-8) top-grade stainless steel
Do not break or strip in applications
T20 start drive head prevents screws come-out
Available in 3 different packs from 100 to 1750 counts
Size: 1-5/8 inches
Cons
Lacks a bit tensile strength compared to other quality products
2. Deck Plus 48422 Wood Screws for Decking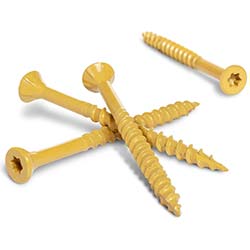 Deck Plus is a well-known British decking products manufacturer. They have started producing many decking tools from 2004. 48422 tan deck screws from Deck Plus are significant is connecting the woods or small repairing. Of course, these are our second choice.
These 10x 3-1/5″ screws are renderedwith pure stainless steel. If you are using pressure-treated cedar, oak etc. in woodworks, try to use these screws for longevity. However, you can also stick them on other forms of woods.
The coarse threaded design of these cedar wood screws is an excellent feature. It prolongs the life of screws and prevents all the corrosions and damages. Again, the Torx head keeps the screw on the right spot without cam-outs.
The self-drilling pointing style helps the carpenter to drill the screws fast without hassles. However, the screws come in a pack of 5 pounds (about 220-250 counts).
Pros
Tan-colored stainless-steel screws
Trustworthy manufacturer with Chinese production center
Stay in the right condition in wet seasons without corrosions
No possible cam outs for Stardrive head
A great choice for treated cedar woods
Available in 5 pounds pack
Size: 3-1/5 inches
Cons
The square drives may weaken a bit faster
3. Bolt Dropper Stainless Deck Screws for Outdoor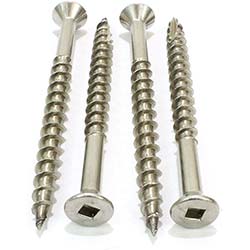 Bolt Dropper is an entirely manufacturer of marine and commercial fasteners. If you inquire about their products such as deck screws, they will appear as the top-class. The 10×3″ model is one of the best cedar deck screws for fastening the woods. You can buy the 100-counts pack of these screws.
These 3 inches hidden fasteners work great under heavy pressure and wet environments. All of them are made of 100% 18-8 (304) stainless steel.
This kind of steel can prevent corrosion due to oil, water, and other wet agents for a long time. Moreover, there is no coating or exterior finish on these screws.
These Bolt Dropper screws are uniquely shaped. They have robust bulge heads to stop stripping in such easy manners. This bulge head makes each screw friendly and suitable for saltwater, mountain home deck and other woodworks.
The deep cut square drive on the head is something great you would love. They help to acquire more holding power to stick with the surface.
Additionally, the lower part is also shaped to drill easily. Type 17 tip goes inside the wood or composite swiftly. Surprisingly, you get a lifetime guarantee with these tiny cedar deck materials.
Pros
Product comes from a dedicated company
100% 18-8 (304) stainless steel material with no coating, or exterior finish
Robust bulge head with deep cut square drive
Type 17 pointing style for easy and secure installation
Available in 100-counts pack
Size: 3 inches
Cons
Head appears softer than regular screws
4. Eagle Claw Stainless Steel Deck Screws For Woodworking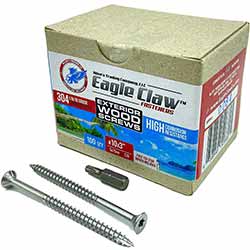 Are you making a table or wardrobe out of wood? Perhaps, you may need Eagle Claw Tools and Fasteners screw kit. We have already discussed 1-5/8″ screws.
Now, here is another model, silver color 10×3″ stainless-steel deck screws. It takes only a few moments to secure fastening of cedar decks with these tiny tools.
These screws are built with high-quality Type 304 (18-8) grade stainless steel. Stainless steels can stay stronger than ordinal metal screws. You can press them on any Oak, cedar, redwood, and other pressure-treated woods.
When you use a drill, type 17 sharp tip enters the wood, composite surface smoothly. But the screws do not wear off or bend so soon.
Suppose you work in a coastal area with wooden boards, fences, jetties etc. Eagle Claw deck screws will give you premium fastening. Even many experts recommend these screws for general woodworking.
But you will be satisfied as the screws do not get deterioration even in wet places. You can drill the little screws in any base of hardwood, softwood.
The star-drive head of each unit helps to patch up the screw into the lumbers. This kind of head, including NIBs below the head is harder to break or cam out from the position. There is a Torx driver comes with the package. After all, drilling the screws on and off is very easy.
Pros
Made of rust-resistant Type 304 (18-8) stainless steel
No deterioration marks of the wood surface
Type 17 sharp tip and star drive head for smooth applications
Comes with Torx driver
Available in 100, 350 and 1750 counts packages
Size: 3 inches
Cons
Requires pre-drilling to use screws on dense timbers
5. SNUG Fasteners Cedar Deck Screws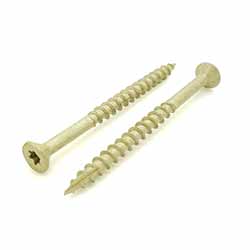 SNG919 tan screws from SNUG fasteners are superbly effective in cedar fence, and deck works. These screws have all the qualities to stand as comprehensive construction tools. We have found this product very satisfying in large coastal and general woodworking.
The core part of the screws is built with stainless steel. But there is also a tan coating over the body. This coating alongside steel increases the longevity of screws drilled on treated or untreated woods.
The Torx drive system tightly puts the screws on their specific points. So there's no way the screws are going to fall apart. Likewise, the bugle head with nibs under it helps to bite and hold the surface with full power.
SNG919's stardrive and self-tapping type 17 tip are there to save your stress and time in decking works. However, you can buy these 9×2-1/2″ screws in 100-counts package.
Pros
Preferable for heavy-duty applications
Does not get rust in the long run
Bulge head with nibs keeps the screws on the perfect position
Self-tapping type 17 tip for easy installation
Comes in 100-counts package
Size: 2-1/2 inches
Cons
Not so sturdy compared to other top-class cedar deck screws
So, these were our chosen, filtered products among 100s of brands. Here are some commonly asked queries about cedar deck screws:
Best Cedar Deck Screws Buying Guide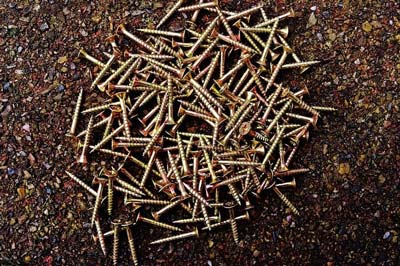 Practically, a buying guide helps to understand why we have picked the above products in our list. Also, you can learn ways to identify the best deck screws for cedar woods. Here are some of the points you should remember while investing money on screws
Build Material
Screws made of aluminium or iron are fragile and transient. They get rust faster than stainless steel cedar screws.
On the other hand, stainless steel works actively to prevent oxidizing the screws for corrosion. So, there are least chances of breaking, wear off or stain marks of the screws.
Screw Head
Screw head is like the roof of our construction. We can make it round, flat, triangular etc. Similarly, screws have flat, round, trim, cap etc. types of heads.
As you want to work on decks, jetties, coasts; screws with the flat head are the best idea. Flathead holds tighter and conceals better than other head types.
Screw Drive
On top of the screw head, you may see a small slope in the center. They are known are screw drive systems. It enables the screw to drill through the wood and composites.
There are popular screw drive systems available like Philip, square, and TORX (star). Among these, TORX drive is mostly used. But you can choose any of the driving style, no worry.
Coating on Screws
When you are applying screws for pressure-treated woods like cedar, the coating appears to be a necessity. You may find most screws with stainless steel finish with a ceramic tan coat.
These are good screws for working on decks. Screws with galvanized coat may get damages when you use them in treated wood compiling.
Weather Resistant
As we are talking about deck works, there is a chance of water dampening the woods. The wet environment creates layers of rust on the metal screws or parts.
But if you find quality deck screws, it will stay intact without staining the deck. You should select screws having corrosion resistance feature.
Pointing Style and Thread
You may have read "Type 17 pointing style" in our reviews earlier. The pointing style or tip shows how easily you can install the screws on woods. Coarse or serrated threads on the screws enable the screws gaining prolonged drive life.
Screw Size
You may not consider this point so important like the above points. But it is equally vital for deck designing. If you use thicker woods for fencing or decking, you should select bigger screws like 2.5 or 3 inches. For regular thick woods, small size screws are good to go.
Frequently Asked Questions
#1. What size screws cedar deck?
In most decking workspaces, 2-1/2″ to 3″ screws are used. The more its length, the more it can bear pressure and hold tighter.
#2. How do you fasten a cedar deck?
You can use several tools for fastening the cedar decks. Hot-dipped galvanized nails, stainless steel screws, hidden fasteners etc. are common tools to combine decks.
#3. Do you need special screws for cedar?
If it is Western Red cedar, stainless steel deck screws like we have mentioned are most preferable. You may also use maze nails or fasteners.
Final words
Now, you have already spent a lot of time reading our best cedar deck screws reviews. We thank you a lot for that. Before going to other pages, or locations, we want to remember you the sum of the reviews.
You should choose the screws depending on which wood you are working for. If it is definite cedar decks, our selection of screws will undeniably appear as great. Read all the details, customer reviews, prices, and package sizes before buying the cedar deck screws.
Hope, you will find the perfect screws for your next project with the help of this buying guide!