Choosing an ideal cedar fence sealer isn't a tough job at all, you just need to know a few factors and those will guide you towards the ideal sealer for you.
Below I have explained all those factors that need to be considered before purchasing a cedar sealer. Take a look and get started!
How to Choose Cedar Fence Sealer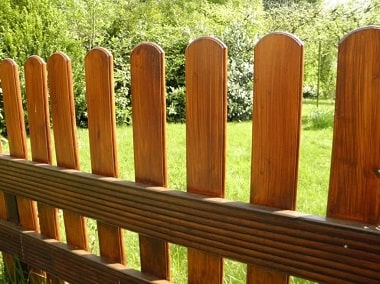 Types
There are mainly two types of sealers that are widely used. Water and Oil-based sealer. Both are different from each other, here is how!
Water-based sealer is watery and they dry up very fast. And once dried properly, it becomes very hard. But one thing I personally don't like about water-based sealers is they have a dark finish that covers the natural beauty of the wood.
If your cedar fence is old and the color already has worn out, then a water-based sealer shouldn't be an issue for you. But for the new cedar fence, it is a no go. However, to whom the natural beauty of the cedar wood doesn't matter, water-based sealers work great for them.
On the other hand, an oil-based sealer is oily. When applied, oil-based sealers produce a glossy shine that looks good. But the best part of the oil-based sealer is, it doesn't add any color on its own. Instead, they enhance the wood grain beauty even more.
It gives the wood a shiny look that even reflects light. If the classy look of the cedar fence matters to you, an oil-based sealer is your thing. Though compared to the water-based sealer, oil-based sealer takes more time to get dried properly.
UV ray-resistant
Ultraviolet ray damages wood badly. It causes the wood to lose its natural color and fade. It also causes easily cracks and splits. Though cedar wood comes with natural properties that help the wood resist the UV-ray for a while but still, adding a protective layer would be very wise.
As UV-ray damages the wood, it can damage the sealer as well if the sealer isn't UV ray-resistant. The sealer might peel off early or turn gray. So when you are picking a sealer make sure that is UV Ray-resistant.
Pigment Quantity 
You need to choose a sealer that comes with good pigments. And then you will have to consider the pigment quantity as well. The high pigment can make a sealer cover the natural beauty of the wood. In other words, the high pigment can make the sealer less transparent.
If the natural cedar wood grain color matters to you, then you should pick a sealer that is completely transparent. Means a sealer with low to no pigment at all.
Eco-Friendly 
It is not always possible to get a sealer that works incredibly well and at the same time that is eco-friendly as well. But still, if you can try to pick a sealer that comes with very few VOCs.
Harsh chemicals and fumes of sealer will not only harm the environment but will also harm you.
So in any case, if you have brought something that has high VOCs then make sure to use a respirator mask, protective hand gloves, and eyeglass before applying.
Ease of Use
This isn't a very important factor but still will benefit you. Try to pick a sealer for your cedar fence that is very easy to apply.
There are some sealers that will leave runs or streaks after applying, you don't want something like that. Pick a sealer that can be easily painted or rolled or sprayed.
Price
If you are looking for cheap sealers then do not expect them to protect the cedar wood fence properly and for a long time. They just won't!
For getting your hands on the top­-notch sealer you will need to invest fair bucks. A good sealer can cost anywhere between 30 to 60$. Invest in the high-quality sealer, you will be winning in the long run.
Frequently Asked Questions
What Do You Use To Seal A Cedar Fence?
I would use a cedar wood sealer that is of good quality. In the market, there are hundreds of wood sealers but not all of them are worthy of investment. Doesn't matter if the sealer is expensive as long as that gives long-lasting protection to the wood, I am okay with the price.
How Long Should I Wait To Seal My New Cedar Fence? 
You can start sealing your cedar fence the next day you install it, why wait for damage to happen.
How Do You Seal Outdoor Cedar?
Pick a good quality cedar wood sealer and then apply that on the wood surface with a brush, roller, or sprayer. And they leave that to dry.
Is Thompson's Water Seal Good For Cedar? 
Yes, Thomson makes some of the good quality wood sealers on the market, so you can rely on them.
How Do I Keep My Cedar Fence From Turning Gray?
A top-notch cedar wood sealer is the way to go! You will have to choose a UV-resistant sealer that will block the UV-ray and will protect the wood from turning gray.
Conclusion 
The above information should be enough to lead you to the best sealer for the cedar fence. I hope you have got your hands on the right one, and if there is anything else I can assist you with, make sure to drop a comment below