Is your wooden door, siding, fences, or other outdoor wood items losing their color? Well, it is very obvious. It is hard to keep the beauty intact through rain, dust, sun, etc.
But there is something that could be done to restore the beauty and take it to just another level! What's that? Clear Cedar finish!
Cedar finishes look incredibly beautiful! whether it is the door, siding, or fence, they are now seen everywhere for its durability and good look.
If you genuinely want your outdoor wooden items such as furniture, siding, fence, door, etc. to look beautiful, you will never regret investing in the best clear cedar finish.
In this very guide, we will take you through the 5 best clear cedar finish for outdoors. These are durable, beautiful, and easy to apply as well. On top of everything, the users are having a pretty good time with them.
So they are worth taking a look! Here you go…
Our 3 Favorite Clear Cedar Finish for Outdoors
5 Best Clear Cedar Finish for Outdoors
1. DEFY Clear Cedar Finish for Exterior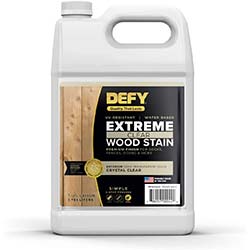 Defy wood stain is a highly popular wood stain of the market right now, and there are several reasons behind the popularity. It is a water-based stain and it is very environment-friendly.
The best part of this stain is, it protects the wood from the damaging UV ray. Due to the UV-ray damage stain turns gray but not with this one.
It is UV-resistant, thanks to the Zinc Nano particle technology. The technology makes the stain work as sunscreen for the woods. The look this stain gives is pretty impressive, woods will start to look very good.
It can be used on any outdoor wooden items such as fences, siding, decks, patio furniture, etc.
The manufacturer used top-quality resin in the making of this stain and that is why this stain doesn't fade or get darken. That being said, with time it might face or get darken but within 12 months you wouldn't see any fading or darkening at all.
One most satisfying thing about this stain is, when doing a second coating, you will not need to sand the first coat. You just have to apply the brightener, use Defy wood brightener, and then apply the stain for the second coating.
This stain comes in 7 different tones including the cedar tone, and all of these tones look very good. And lastly, applying this stain is pretty easy as well. You can use a sprayer or brush, use the one you are most comfortable with.
Pros
Recoating doesn't require sanding or stripping.
Very easy to apply.
The stain is UV-resistant.
Wouldn't turn grey and get darkened.
Comes in 7 different tones.
This stain is fade-resistant.
Cons
According to the few users, this stain doesn't offer a very long-lasting service.
2. THOMPSONS WATERSEAL Waterproofing Stain for Outdoors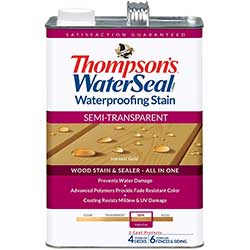 The Thompsons Water seal wood protector is a highly long-lasting wood finish. It blocks the sun's harmful UV rays and also prevents mildew growth on it. On top of that, this finish is fade-resistant as well.
We liked this wood protector very much due to its impressive features. This finish offers great water enduring functionality and that is exactly why we have kept this one on the second.
Doesn't matter how much it rains, or how heated the sun is, the outdoor woods will look good and stay fresh as long as they have this Thompson finish on them.
What this very finish does differently from other wood finishes is, it can be applied in both dry and damp wood. Whether it is the deck, fences, doors, or any patio furniture, this finish can be used anywhere.
Plus, using this finish is very easy, there isn't any complexity. However, one thing that we didn't like about this wood finish is, it can be pump sprayed.
A few users have tried that and didn't find it effective at all. Apart from this, we don't see any flaws in this model. It is a water-based solution that can be easily cleaned with soapy water.
The way this finish is manufactured, it keeps the natural color of the wood, and if the wood is cedar, the finish even increases the beauty.
Drying doesn't take much time and once dried you can get started with the second coating. But for doing to the second coat you won't have to sand or strip the first coat.
Pros
This finish lasts long on the wood.
Enhances the color and look of cedarwood.
Very easy to apply.
Water, fade, and mildew-resistant finish.
Water-based solution for easy cleaning.
Can be applied on both damp and dry wood.
Cons
Cannot be applied with pump-up spray.
3. General Clear Cedar Finishes Oil for Outdoor Wood Projects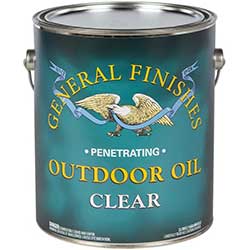 This is another top-notch outdoor wood oil that does an excellent job of preserving the wood quality and color. The oil penetrates pretty well in the wood which allows it to protect the wood better.
It can be used on every outdoor wooden item let it be a door, patio furniture, fences, siding, etc.
The oil comes with a UV stabilizing component, in other words, it protects the wood from UV rays which is a major reason behind the premature graying.
Having this oil finish on the wood, UV rays wouldn't be able to penetrate, resulting in healthy wood for a long time. Apart from the UV stabilization, this oil finish prevents mildew growth as well.
You can use this one pressure-treated wood and can be applied over any kind of stain. That being said, one thing keeps in mind, this finish wouldn't work well on oily woods.
Pros
Easy to apply.
Can be applied with anything brush, roller, or sprayer.
UV and mildew-resistant oil finish.
Suitable for all outdoor wooden items.
Improves the color.
Cons
Not suitable for oily woods.
4. Cabot Australian Timber Oil for Outdoor Furniture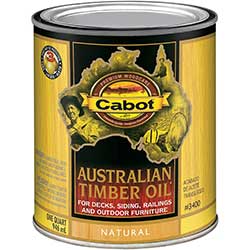 Another best-selling wood finish of the market, the Cabot 140 0003400 005 timber oil. We have a lot to talk about this very timber oil, mostly about the making of it. It is an Australian oil and it is specially designed to protect the woods from Australian exposure.
Like most, this finish cannot be used on every wood. It is suitable for Cambara, Tallowwood, and Merbau wood. Whether it is siding, fences, railing, patio furniture, or door, as long as the wood is suitable you can use it.
This oil also penetrates pretty deep, and that is because of the superb linseed oil, they penetrate extremely well. This oil has long oil alkyds which make the oil durable.
It adds a nice color to the wood. Moreover, this oil comes with complex translucent iron oxide pigments that give good protection from the UV-ray.
Applying this oil is very easy and smooth. However, there is a coverage issue according to few users. The manufacturer says on a smooth surface one gallon of this oil can cover 400-600 square feet.
But users didn't find it accurate, it gives around 300-400 square feet coverage on a smoother surface.
The Pros
Highly durable and long-lasting wood oil.
Very easy and smooth to apply.
UV-resistant oil and adds good color to the wood.
Has good penetration ability.
Performs best for Australian exposures.
The Cons
Not suitable for all woods.
Has coverage issues.
5. Minwax Clear Cedar Finish for Exterior Wood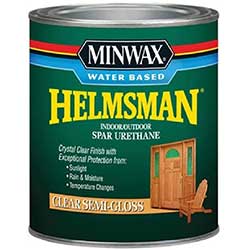 Last but not the least, we have the Minwax 630510444 Water Based Helmsman Spar Urethane finish. This urethane finish comes with components that do an excellent job of blocking the UV-ray which is the main cause of early fading or graying on the woods.
The finish is suitable for almost all kinds of woods but works great on cedarwood.
Windows, fences, door, patio furniture, kitchen countertop, etc. It can be used on any wooden items. It is a clear finish so the beauty of the wood grain will be shown.
It is very easy to apply this finish, it dries pretty quick as well. Not only that, with this finish the wood will be protected from the rain and moisture too.
There are two things that we didn't like about this finish. The first one is the color, it gives milky color which a lot of people don't like. That being said, if the wood is white-colored, then you shouldn't have any problem with it. And the last one is, this finish is very thin.
Pros
UV ray-resistant water-based finish.
Easy to apply and dries pretty quick.
It is a clear finish.
Protects the wood from early graying and fading.
Protects the wood from water as well.
Cons
Very thin finish.
Milky tone.
Also Read more on Best Sealer for Cedar
How to Apply a Clear Finish to Outdoor Cedar Woods?
Applying a clear finish on the outdoor cedar is the same as adding finish to any other wood. However, how long would the finish last massively depends on how better you are applying it.
Finishing a wood might seem very easy which is not, before the final finish there is a lot you need to do.
A lot of preparation goes into before adding the final finish. Anyways, if you don't know the exact process of applying finish on wood, the below section is going to help you.
Take a look!
Sand the wood surface
This is the most important part, since how better the stain or finish will stick that majorly depends on the wood surface. If the surface is not prepared well, doesn't matter how better finish you have put, will wear off way too soon.
Woods come with dents and scratches. These scratches might have caused due to the machine on the mill, or regular wear and tear, but you will surely see some flaws on the wood.
So for proper finish application, you will have to sand down the wood surface where you will be applying the finish.
Pick a 120 grit sandpaper and start sanding, you can do manually with hands if the wood surface is small and for bigger woods, it would be wise to get a sander machine. 120 grit sandpaper should easily take off any scratch or dent from the wood.
One important thing you need to keep in mind when sanding, make sure you don't stand against the wood grain, this will make the wood surface look very bad. So always sand with the grain.
Once you have done a few rounds of sanding with 180 grit paper, you might see the sand grit scratches, and then you will have to use finer grit paper. Take a 220 grit paper and then do a couple of round of sanding, the wood surface will get smoother.
Clean the wood surface
When you are done sanding and the wood surface has become very smooth, now you will have to clean the entire wood. Get rid of all the dust. Take a used cloth and wipe clean the entire wood. Stain or finish wouldn't sit properly on the dust, plus, you will get an uneven finish.
Stain the wood
Staining is a mandatory process before applying the finish. Pick a good quality stain and first try the color. Sometimes the color that the manufacturer says isn't the same after you open the can.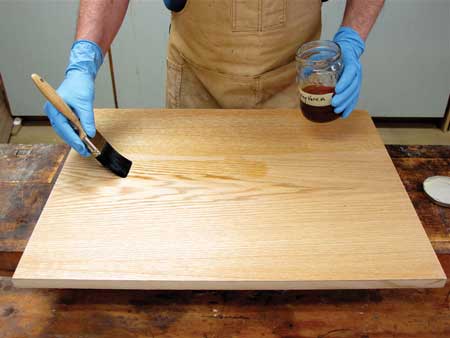 The best way is, pick the same quality small wood piece that wouldn't be needed later and stain on that. If you see the color is right then apply on the real one.
Most people shake the can before using the stain, do not do this. Open the can and stir the stain with something like a stick. And when applying stain makes sure you apply it evenly.
One mistake most beginners do is, they leave too much stain on the wood thinking that will improve the color which is doesn't. In fact, too much stain makes the surface even.
Use a brush or rag for applying the stain, we would suggest picking a brush since it helps to apply the stain evenly. Do several around of brushing for spreading the stain all over the surface evenly. And if you see the stain isn't dark enough, then you can do several rounds of coating to achieve that color.
For doing the second coating you will have to wait till the first coat dries properly.
Applying the cedar finish on the wood
We are assuming you have already picked a cedar finish but still there is something you should know. There are different types of finishes that we have discussed in the buying guide section of this article.
But let us give you a little insight into the two most popular finishes, water-based and polyurethane finish.
Polyurethane finishes give wood a very protective coating but they come with high VOCs which are harmful. On the other hand, water-based finishes come with less amount of VOCs, they are non-flammable.
Plus, this finish is highly environment friendly as well. That being said, a water-based finish can cause the wood fiber to swell and that will result in an uneven wood surface.
However, pick a clear finish that comes with the gloss level you want on the wood.
The way you have applied the stain, you will be applying the finish in the same way. Take a bristle brush, or you can use a foam brush as well. Do not shake the can of finish, open it, and stir inside with something.
And just like a stain, brush the entire surface with the finish and make sure to go with the wood grains when. Do not brush the stain against the wood grain, that will look ugly.
You will have to apply several coatings of the finish on the wood. But you cannot do the second coat unless the first coat is dried completely.
Before you add the second coat, you will have to sand the first coat a bit, obviously after that have dried. You don't have to sand heavily, just enough to make the surface smooth. You can use 280 grit sandpaper.
Add a couple of coatings and then stop. And after the last coating, you won't have to sand the coat. With a soft rag wide the surface down and You are done!
How to Choose the Best Cedar Finish for Outdoors?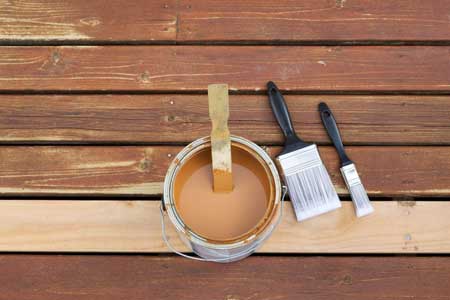 Picking the right cedar finish isn't a hard job at all, it is a little bit tricky for sure because there are a bunch of things that you need to keep in mind right before you purchase the finish.
Though we have provided you with a list of the 5 best clear cedar finish for outdoors but still, below we have designed a buying guide as well, so that you can make the right purchase on your own without any help. Go through the guide, you will know enough to buy the ideal one all by yourself.
Weather
In case you don't know, let us tell you, woods contracts and expands depending on the weather. When the air is humid, it will make the wood expand, and when the air is dry woods contact.
So you have to choose a finish that will allow the wood to contract or expand, otherwise, the finish will wear off. Apart from the air, the Sunray also causes the wood to contract and expand.
Water and UV ray-resistant 
The finish you choose needs to be UV-resistant, otherwise, the wood will turn gray and will fade at a very early age. And that will make the wood look really bad.
If it is the fences or windows, you can get along with faded color but when it is the furniture, that wouldn't work. Furniture needs to look beautiful.
And also make sure to choose a finish that is water-resistant, so that the wood will last longer.
Tone
If you are buying the finish for cedarwood, then go for the clear finish. Because, cedarwood grains look very classy and when you pick a clear finish, the wood grains will be shown which will look amazing.
Apart from that, if the wood grains doesn't look good or you want to change the color of the wood, then you can go for colored tones. There are plenty of color options.
Frequently Asked Questions
#1. How do you protect cedar wood outdoors?
Well, there are few ways of protecting cedar wood from outdoor but the best way is staining and adding finish to it. There are stains which are specially made for cedar woods and they work the best for cedar.
And then you can add an oil-based or water-based finish to protect the staining. Doing so will protect the cedar wood from the most damaging elements, UV-ray, water, and mildew.
#2. What is the best finish to put on Cedar?
There are a few but we would suggest going with the Thompsons Water seal. It works incredibly well with Cedarwood and is highly long-lasting as well. Super easy to apply and comes at an affordable price as well.
#3. How do you waterproof cedar?
Staining! Not every stain. You will have to pick a stain that can prevent water from penetrating inside.
Sometimes due to the wrong application, even the best stain cannot prevent water from penetrating. So along with the top-quality water-resistant stain, make sure to apply the way it is recommended.
#4. Is Thompson's Water Seal Good for Cedar?
Yes, it is! It will protect the cedar wood from rain and UV-ray as well. Apart from that, the wood will get protection from mildew as well.
However, you will have to make sure you apply in the right way, otherwise, it wouldn't perform as expected which is very obvious.
#5. Can I leave my cedar unfinished?
Yes, if you want you can! A lot of people don't finish cedar wood after staining it. But doing that, the staining you do remains unprotected. Adding the finishing will protect both the wood and the stain.
Conclusion 
Finally, wrapping it up! We hope you get the best clear cedar finish for outdoors. We have provided a list of 5 finishes but still, we would urge you to do your research.
Before making the purchase, go to the user's review section, you will get your answer there. From good to bad you will know about everything that you should know.
And then you will end up choosing the right finish for you. Hope this helps! If there is anything else we could help you with, do not hesitate to hit us through the comment section below!