The deck is like an outdoor living room where you have a lot of fun with family and friends. And they look pretty cool as well, and if it is made of cedarwood, then surely that is an eye-catcher. Because cedar woods look really cool.
However, moisture, mildew, rain, UV-ray, sooner or later elements will definitely damage the deck. It will suffer from color loss and the wood might even start to rot as well. You cannot remove these elements for obvious reasons but you can do something to protect the deck from the damages.
Invest few bucks on the best sealer for cedar deck and that will take care of the rest. It will keep the wood protected from all those damages for a satisfactory amount of time.
However, from a pool of hundreds of cedar deck sealers finding the ideal one is quite a task. And to help you with that we have come up with a list of 7 best cedar deck sealers that are worth giving a try.
7 Best Cedar Deck Sealers Reviewed
1. Ready Seal 512 5-Gallon Pail Natural Cedar Exterior sealer & Stain
Whether it is stain or sealer, the Ready Seal brands shine in all. They have produced some of the top-notch sealers and stains in the market. This ready seal 512 sealer doesn't require any primer before applying and doesn't require thinning or diluting before spraying. It can be applied by brush, spray, or even with the roller. And the best part is, if using a brush or roller, you won't have to do any back brushing because this sealer doesn't leave any streaks, laps, and run.
In the beginning, the ready seal sealer looks dark, very dark. Do not worry about that because it will take around 12-14 days for this sealer to rich its true color. One thing to keep in mind with this sealer, you cannot apply it on the newly stained or painted surface because they wouldn't let this sealer to penetrate inside the wood. It comes in 6 different tones, which allows you to choose the one that blends well with the existing wood color.
No wet line application is required, this sealer will get mixed on its own. And before applying this very sealer you don't have to any sanding or stripping work. The ready seal 512 is ready to use right out of the can. 
The Pros
Applying this sealer is very easy.
Can be sprayed, rolled, or brushed.
Comes in 6 different tones.
Wood preparation isn't required.
Doesn't leave any laps and runs.
Protects the wood from water penetration.
The Con
The color starts fading when it crosses 6 months.
2. SEAL-ONCE MARINE Penetrating Wood Sealer
It is a clear sealer and it is water-based. Though water-based sealers don't offer protection like oil-based sealers that isn't the case with this sealer. This sealer offers protection like an oil-based sealer. It penetrates inside the wood fibers and seals so well that no water or moisture can penetrate inside. Along with this is a mildew-resistant sealer as well, it prevents mold growth and keeps the wood healthy for a long period of time.
Do not worry about the cracking of the sealing, whether it is summer or winter, the sealer with expanding or contract along with the wood. Since it is a water-based sealer it comes with a very low amount of chemical solvent, it contains very low VOCs. And that makes it safe to use around children and animals.
Cleaning this sealer is very easy, no solvent or any chemical is needed. Pick soapy water and wipe clean it. This sealer is specially designed to be used around the salty water, so it is suitable for use on the boat as well.
The Pros
Suitable for use on a boat.
Super to clean with soapy water.
Penetrates deep inside the wood.
Very easy to apply.
Moisture and water-resistant.
Prevents mold growth.
The Con
3. Olympic Stain 79551 Maximum Wood Sealer
Olympic is producing some high-quality wood stains and sealers since 1938. And here we have another top-notch protection of them the Olympic Stain 79551 wood sealer and stain. It is a semi-transparent sealer that adds little tone to the wood and still shows the natural beauty of the wood grains which is really amazing.
It is a sealer and at the same time, it is a stain as well. If we talk about the protection, this sealer or stain offers great protection from both water and UV-ray. Doesn't matter how harshly it rains or how sunny the weather is, water and the UV ray wouldn't be able to penetrate deep inside the wood.
Applying this sealer is very easy and it gets extremely satisfying when the wood surface is extremely smooth. Apart from that, there aren't any temperature or weather recommendations, you can apply it at any temperature. But we would suggest not to use it under direct sunlight.
The Pros
Protects from UV-ray.
Water-resistant sealer.
Super easy to apply and maintain.
No temperature recommendation.
Woods grains can show through the seal.
The Con
This sealer is a little thin.
4. ToughTimber Waterproof Deck Sealer
This Tough Timber Waterproof deck sealer is something that will protect the cedar deck for years. Not only decks, but this very sealer also works great on most cedar wood items whether it is 5the rood, deck, fence, or shingles. This sealer seals the wood very well by penetrating deep inside and makes the wood water-repellent.
Since this sealer seals the wood from inside, that prevents any water from penetrating inside the wood. In other words, the sealer makes cedarwood mildew and mold-resistant. Not only that, this sealer makes the wood gas and oil-resistant as well. Using this sealer is super easy. Just mix it well and then apply.
With the 5-gallon sealer, you will be able to cover around 1000 square-feet of the wood. However, though that depends on the porosity of the wood surface. On the smoother wood surfaces, you should be able to cover around 100 square-feet with ease. There is one thing that isn't likable and that is this sealer doesn't protect the wood from UV-ray.
The Pros
Easy to mix and apply.
Penetrates deep inside the wood.
Protects the wood from water.
Makes the wood mold and mildew-resistant.
Offers good color.
Will last for a couple of years.
The Con
Doesn't protect from the UV-ray.
5. Rain Guard Water Sealers SP-8002
This sealer comes with Micro-lock properties which makes the wood absorb this sealer properly. This Rain Guard sealer is so protective that, once the wood absorbs it completely, no outdoor things can damage it whether it is heavy rain or ultraviolet ray. Not only that, mildew, mold, salt, dirt, also cannot cause any harm to the wood.
It can be used on any porous wood surface, though porous surfaces require more solvent but with one gallon of this rain Guard SP 8002 you will be able to cover around 200 square feet of the wood surface. It comes with a very low amount of VOCs, so it is very safe to be used around kids and pets.
It is a clear sealer so do not expect this sealer to improve or decrease the beauty of the wood. Clear coats are fully transparent and if the wood looks good, it will surely appear to be good. However, most people want the sealer to enhance the beauty of the wood grain and unfortunately, this sealer doesn't provide that.
When using this sealer you will have to make sure that the temperature is between 40 – 80 degrees Fahrenheit. And if we talk about spraying, it can be applied by sprayer which is convenient. But you will have to choose a low-pressure sprayer for this sealer.
One thing to keep in mind, you cannot apply this sealer over a painted wood surface, the wood needs to be prepared and free from any paint. Before applying this sealer, sand the wood thoroughly and clean it.
The Pros
Provides great protection from UV-ray.
Protects the wood from water.
Highly long-lasting sealer.
Easy to apply and mix.
Comes with a very low amount of VOCs.
Makes the wood mold and mildew-resistant.
The Cons
It is a clear sealer.
The wood needs preparation before applying this sealer.
6. Seal It Green Garden Box Sealer
The Seal It green garden box sealer is a plant-based sealer that can be applied over the cedar woods used around the raised bed gardens. This sealer is going deep inside the wood, forms a good bond with the wood grains, and hence prevents any water from penetrating inside the wood. It comes with no toxic elements, has a very low amount of VOCs which is safe to use around plants and pets.
Since there is no toxic chemical in this sealer, even if the sealer leach into the soil, nothing bad will happen to the plants. Apart from the gardens, this sealer can be used on pet projects as well. It will be very safe for them.
With this sealer, you will be able to cover around 400 square feet of the wood surface. The number might get reduce a bit if the wood surface isn't smooth. However, though this sealer protects the wood from water, it doesn't protect the wood from the UV-ray which is a drawback of this sealer.
The Pros
There isn't any toxic chemical.
Penetrates inside the wood and forms a great bond.
Protects the wood from water, mold, and mildew.
Easy to mix and apply.
Safe for use around pets and plants.
The Con
No protection from UV-ray.
7. Ready Seal 100 Clear Exterior Wood Stain
Now we are looking at the last sealer of the list and that is the Ready Seal 100 Clear wood stain. This wood stain contains all the needed elements that a high-quality wood sealer should have. It is a professional grade sealer and stain that does an excellent job protecting the wood from all kind of threat.
Compared to other wood stains, this one is easier to apply as well. It requires no primer before applying and it can be sprayed, or rolled, or brushed. No thinning or diluting is needed before applying. When applying it doesn't leave any laps or runs so no back brushing is needed as well. You might have already guessed how easy it is to apply even for a beginner.
There isn't any temperature range, you can apply this under any temperature. However, though it is an exterior wood sealer but it hasn't proven itself to be extremely protective in harsh conditions. According to a few users, this works best in interior wood pieces.
The Pros
Super easy to apply.
Doesn't require a primer.
Can be sprayed brushed or rolled.
Offers decent protection from water.
Enhances the wood color.
The Con
Not protective under harsh weather conditions.
How to Choose the Best Cedar Deck Sealer?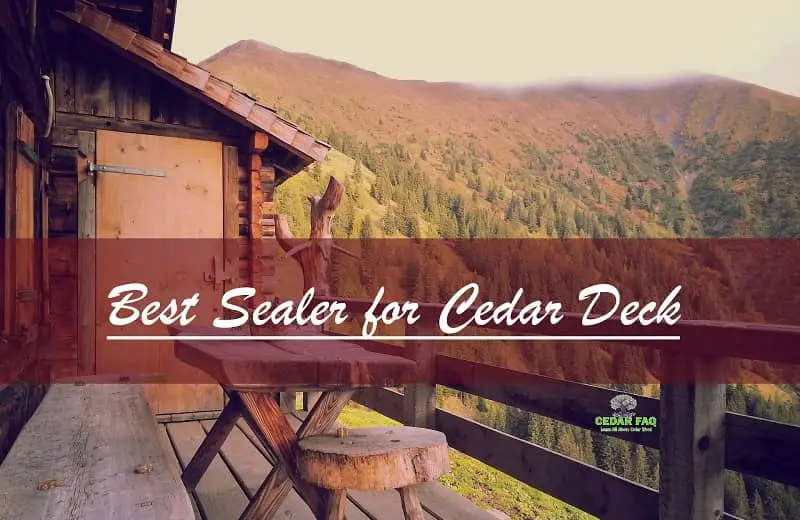 Choosing the right sealer for the deck is pretty easy. Keep a few things in mind and you are good to go. That few thing includes different types, ease of use, protection capability, etc. In this very section, we will walk you through a detailed overview of each of those factors so that you pick the right sealer on your own.
So here we go!
Types
Well, there are different types of deck sealers and different types serve differently. And that makes having an idea about each type mandatory.
As the name suggests this sealer is completely clear, which means it comes with no pigment. However, that being said some clear sealers do come with little amount pigment though that doesn't make much of a difference. The primary purpose of a clear sealer is to protect the wood from all kinds of water. It prevents water from penetrating inside the wood and as a result, doesn't matter how badly it rains, the deck wood will remain good.
Most homeowners use a clear sealer on the cedar deck and that is due to the appearance of it. Clear sealers are completely transparent, it doesn't come with any tone. So when applied to the wood, the naturally beautiful wood grains are through the sealer and that looks really amazing.
Wood toner sealers are a little like clear sealer since the wood grains can be shown through it. But unlike clear sealer, the wood toner sealer enhances the wood grain color and makes it look really classy. That being said, when it comes down to the protection, wood toner sealers don't shine much because they cannot protect the wood as well as clear sealers and others. Though this sealer prevents water from penetrating inside the wood but it prevents the wood from splitting and cracking.
If you want little transparency on the deck and at the same you want the sealer to add a little bit of color as well, then semi-transparent sealers are the right choice for you. They add their color but do not cover the visibility fully, the natural wood grains will still be shown. They offer decent protection as well from moisture, mildew, UV-ray, and water.
This is more like a stain and less like a sealer. It works like paint. You should opt for this type when the deck wood has no good color and the wood is damaged. Applying solid stain will change the color, it will be improved. No wood grain would be shown this will change the color of the wood grain.
Plus, this stain is extremely long-lasting compared to other sealers. In some cases, this stain even lasts over 5-years. Along with that, the protection this sealer offers is amazing too.
Ease of Use
Water-based and oil-based sealers are the easiest to apply. However, the ease of applying sealers on the wood depends on the wood surface. If the wood surface isn't dry then sealer application wouldn't be appropriate because that will leave a tiny bubble which wouldn't look good at all. So before you apply any sealer make sure the wood surfaced is dry enough.
And when the surface is smooth, applying an oil-based sealer will very satisfying. Water-based sealers are pretty easy and comfortable to apply.
Eco-friendliness 
Sealers come with volatile organic compounds that are harmful to the environment and for humans as well. But water-based sealers don't come with many VOCs, they have very little chemical solvent and that makes them pretty safe to use.
Clean Up
Cleaning is a concern because the deck always needs to be cleaned. Some sealers make cleaning a little hard and some make it easy. For example, you cannot clean some sealers with soapy water such as oil-based sealers. But when used water-based sealers, it can be clean with soapy water. For an oil-based sealer, you will be needing a paint thinner or any solvent like that to clean it.
Drying time
Some sealers take 48-hours to dry and some take few hours. Through fast-drying, sealers are the favorite of everyone but late drying sealers like oil-based sealers are way too protective and long-lasting. Water-based sealers dry within 3-4 hours and offer decent protection as well.
Durability
Not all sealers will last for long period. Some sealers wouldn't be able to withstand harsh weather conditions, so it would be best to stay away from such kinds of sealers. Oil-based sealers are highly protective and extremely durable as well.
Preparation
Before sealing and staining any wood, that wood needs to be prepared so that stain or sealer will sit better. By preparation we mean, sanding or stripping the wood. But now the manufacturers have produced some sealer and stains which could be applied without any kind of preparation. Those are both money and time savers. If you don't want to get through the struggle of sanding the wood then get yourself one of those sealers.
Cost
We would suggest not compromise the quality because of the price. Good products will come with a good price and that is so obvious. Just to save a few bucks do not go after cheap sealers, in the long run, you will end up spending more bucks.
Water-resistant
This is a must for any sealer. Some sealer gives incredible color but they lack the protection ability. Since decks are exposed to different weather, you will have to make sure you choose a sealer that will prevent the water from penetrating inside the wood. There are some polyurethane sealers which protects the wood from snow, mildew, rain, etc.
And there are some sealers that come with properties that can kill mildew fungus. Mildew can cause the wood to swell and rot. So ensure you are picking a sealer that will protect the wood from all of these.
UV-resistant
The ultraviolet ray of the sun can damage the wood heavily day after day. UV-ray causes the wood to fade badly and causes cracks as well. Not all sealers can protect the UV-ray. For example, clear sealers cannot prevent the UV-ray from penetrating inside the wood. Stain or sealers that are dark, only they can fully prevent the UV-ray from damaging the wood.
So if you live in an area that is always sunny, then consider getting a sealer that is capable of blocking the UV-ray.
Coat Layer
Most of the sealers require a couple of layers of coating for optimum protection but there are some sealers that are so top-notch that only a single coating does the job nicely. They are surely expensive than others but they worth the price.
Frequently Asked Questions
Does cedar decking need to be sealed?
Whether it is cedar or any other wood, when it is exposed to the weather, it needs to be sealed so that it would remain protected from UV-ray and water.
How do you protect a cedar deck?
The simplest way to protect the cedar deck from all kinds of threats is to seal it with a top-quality cedar sealer. A good sealer will penetrate deep and will prevent water and UV-ray to penetrate inside the wood and damage it.
When should I seal my cedar deck?
In our opinion, you should seal the cedar deck at the very beginning. A lot of people wait for a while to see if the wood requires a sealer, do not do it. When you see any change in the color of the wood, that means it has started to get damaged and this could be later to restore that. So apply the sealer on the very first day, or in the first week.
Conclusion
Choosing the best sealer for cedar deck isn't hard at all. Just keep a few things in mind and you will get your hands on the right one. If you have gone through the buying guide section, you know what exactly you need to keep in mind before buying. Hope that helps.