Cedarwoods are incredible, they are durable, come with an attractive look, and they are rot and decay-resistant naturally. Then why do you still need to seal cedarwood?
Cedarwoods contain oil that keeps them safe from rotting and decaying. However, that cannot protect the wood from the sunlight. This wood is highly durable and beautiful, but under direct sunlight, these wouldn't last long.
And that is exactly why you will want to seal the cedarwood, especially when used outdoors. At the end of this article, I have listed a couple more reasons why you should seal cedar wood.
But now, let have a look at the guide on how to seal cedarwood.
Do not worry if you have never done this before, this guide is for beginners. The process is extremely simple, all you have to do is follow the instruction and you will get it done smoothly.
So with no further delay, let's get into the process!
How to Seal Cedar Wood:
How to Seal Exterior Cedar Wood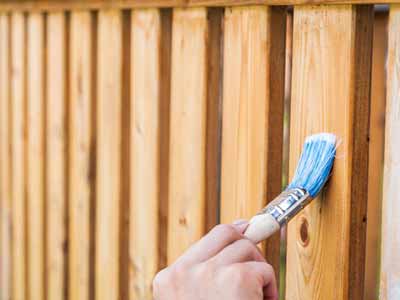 Since cedar woods are rot and decay-resistant they are widely used in outdoor areas such as decks, railings, sidings, fences, furniture, etc. And outdoor they are exposed to direct sunlight which is a threat to the wood.
The natural look of cedar will be gone in months, it will turn gray and will look bad if you don't provide protection from the sunlight. The UV-ray is what causes the damage.
You would want to pick a semi-transparent sealer that contains cedar color pigments. But if you don't care about the color, protection from the weather is your main concern then you can go for water sealing finishes.
They are completely transparent, it won't add any extra color to the wood.
Now clean the cedar wood thoroughly. If the wood is new, then you don't need to do much, just wipe clean the wood with a damp cloth. But if the wood is dirty then you will have to break a few sweats.
If the wood is super dirty then pick a brush and dishwashing liquid. And then brush off all the dirt, grime, mold from the wood. You cannot seal the wood unless that is properly cleaned. Remember, do not use a pressure washer in any case, it will damage the wood.
Once you have cleaned the wood properly, let it dry completely.
For sealing the wood you will only need 2 items which are
The sealer
A brush or roller
You can apply the sealer with both the brush and the roller, pick the one that seems more convenient to you.
When you are applying the sealer make sure to coat the entire surface evenly. And pay more attention to the edges, joints, board ends, etc. they are more exposed to moisture.
You will have to do a couple of coatings, single coating wouldn't work great. Repeat the sealing process couple of times to seal the wood very well. And you would want to seal the wood once every year.
How to Seal Interior Cedar Wood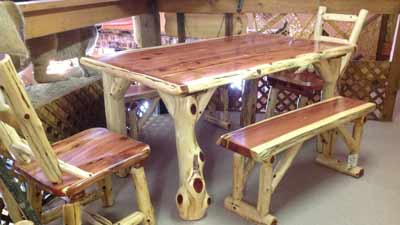 Since cedar woods look great, they are used on interior wood projects as well such as the windows, doors, table & chairs, and other furniture. Sealing interior cedarwood isn't mandatory but it will be very beneficial for you if done right.
Sealed woods are super easy to clean. If you have a table that is made of cedarwood and is sealed, you will be able to clean that effortlessly.
And if we talk about the look, interior cedar woods stay beautiful for longer periods. So if you seal the wood with a top-notch sealer, it will even enhance the tone of the cedar. The wood grains will look extremely classy.
There isn't any difference in sealer exterior cedarwood and interior cedarwood. You will have to clean the wood before sealing it and then with a roller and brush apply the sealer.
When sealing interior wood make sure to open the windows for proper ventilation.
How to Seal the Wood before Painting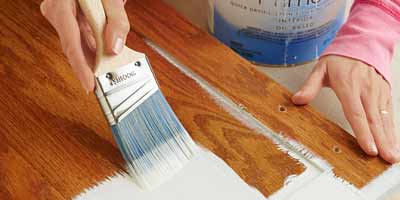 If you have a plan to paint the cedar wood (through very few people think of this, since cedar woods are beautiful when they are bare) then you will have to consider sealing the wood. Unlike most wood, cedar comes with natural oils which will start to bleed through the paint if not sealed properly.
The oil can bleed easily through latex and oil paints. Not only that, it will make dark spots on the wood which are enough to turn the most beautiful wood into an awful one.
And the prevention is sealing it properly. Not any sealer, you will have to pick a sealer that contains primer ingredients as well. If you don't find a sealer with primer, then you better pick a primer and apply that.
In that case, you will want to pick alkyd oil-based primer since they deliver incredible protection from discoloration and primer that has high pigment. Oil wouldn't be able to bleed through primers that have high pigment.
The applying process is the same as before. Clean the wood thoroughly and then apply the primer. However, if you will be painting the wood before that tells the natural color of the wood doesn't matter to you.
In that case, you can sand down to the wood a little bit, so that you won't have to clean that.
Sand off a thin layer off and then clean off all the dust. And then apply the primer, you will get the best result. You will have to sand the wood for sure if the wood has been painted before and has painted on it.
Conclusion 
I hope this guide teaches you how to seal cedar wood properly. Sealing any wood is actually a very easy task, apart from the cleaning and sanding phrase. Rolling or brushing the sealer over the wood feels very satisfying as well.
However, make sure to invest in the right sealer, a sealer that will provide protection to the wood for longer periods. Go for big brands, they might cost more but they worth it completely.