Cedarwood has always been the choice of most Americans when it comes down to building fences. But due to some impressive features of Vinyl, now some people fall into confusion. 
Not being able to choose one between two when both are close enough in terms of features, that is very normal. It is easier for those who have extensive knowledge about both. 
However, if you want to build a fence but are stuck between cedar and vinyl wood, then I urge you to invest 5 precious minutes of yours in this very guide. 
I have created an in-depth Cedar vs Vinyl Fence comparison. From the advantages of disadvantages of both these fences, I have covered everything in this guide. 
Cedar Vs Vinyl Fence: Head to Head Comparison
Cedar fence
Vinyl Fence
Pros
Cons
Pros
Cons
Cedar wood costs less than Vinyl.
Compared to vinyl cedar lasts a little short.
With proper care vinyl fences will last very long.
Expensive than cedar wood.
Extremely durable, can withstand harsh weather.
Prone to catch fire
Vinyl doesn't rot at all since it isn't natural wood.
Isn't as durable as cedar wood.
Super easy to clean
 
Very easy to clean
Very low sound abortion.
Doesn't require heavy maintenance
 
Heavy maintenance isn't required.
Vinyl wood doesn't look as classy as cedar wood.
Cedar wood looks extremely classy.
 
Can withstand up to 250 degree Fahrenheit heat.
 
Cedar wood absorbs sound fairly.
 
 
 
Durability 
In between these two cedar and vinyl, cedarwood is what stands as the most durable option. There are various reasons why cedar wood is extremely durable. 
This wood comes with natural oil that has the ability to keep insects and rots away, it is completely natural. If you can build a fence properly with cedarwood it will easily withstand high winds, rains, sunlight, and snow. 
It will not shrink or warp. Remember, you will need to build the fence in the proper manner for making it withstand harsh weather. 
On the other hand, Vinyl fencing also can stand against decay, pests, and fungus, but it cannot withstand high temperatures and snow weather.
Both high cold and heat can cause vinyl to bend or expand, making the fence look extremely awful. Heavy wind can twist the vinyl fence which will require you to repair it. 
Maintenance 
Maintaining cedar wood is pretty simple. This wood is already pretty sturdy, it has properties in it that keep insects and rots away. Which means you will not have to invest after paint or staining the wood for protection. 
However, if you want you can do the painting or staining according to your need. But the natural cedar reddish color looks the best.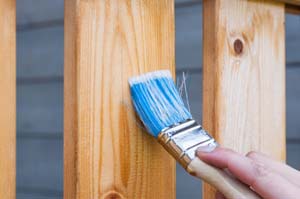 When you are maintaining the lawn, that sometimes can hurt the cedar fence. Mainly it can damage the wood posts at the bottom and later that can look very awful. 
So, add a post shield to the bottom of the fence that protects it from damage. 
From time to time you should inspect the fence, and if you see any rot or crack or split, then immediately treat that.
Apart from this, there isn't much you need to do to keep the cedar wood healthy. The vinyl fence is also the same, and doesn't require heavy maintenance. 
Just make sure you do not keep any sprinkler near the fence, otherwise, that will cause mildew buildup on the fence. And if not treated immediately, that can stain the fence which will hurt the overall look. 
Look
Doesn't matter what you use, but replicating the natural reddish tone of the cedar wood is nearly impossible. Cedarwood looks incredibly classy and the look of its grain increases the beauty even more. 
Due to its amazing look cedar wood is being used on most projects. Whether it is a fence, railings, doors, sidings, windows, furniture, etc. You will see cedar wood everywhere. 
On the other hand, vinyl fences also look good. There are two options, faux wood grain look, and faux stone look. You can choose the look you like. 
Both of them look good but vinyl doesn't look as classy as cedarwood. So if you want your fence to look very eye-catchy then a cedar wood fence is your thing. 
Ease of cleaning
Vinyl wins the race in terms of cleaning. Cleaning vinyl is very easy. You can rinse the vinyl fence with your garden hose that is enough to get rid of dirt.
And if you have a pressure washer then that makes cleaning vinyl fences effortless. 
If you have a vinyl fence and vehicle, then you should consider buying a pressure washer in case you don't have one. That will make cleaning both of your items very easy. For more effective cleaning you can use detergent as well.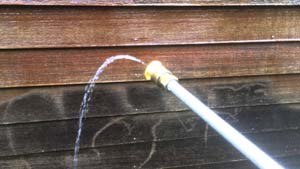 But cleaning cedarwood isn't as easy as vinyl. If the wood isn't sealed you cannot spray water on that. Because if the water gets inside the wood that will cause the grain to swell which will make the fence look bad. 
You can use a transparent sealer or stain on the fence and then you can clean the wood with a hose pipe. Otherwise, you will have to rub clean the fence with soapy water. 
Repairing
Repairing a vinyl fence could be heavy on the wallet. Small cracks or splits can be cured by anyone using a vinyl repair kit but if the crack is big then you will have to call professionals and that is going to cost good money. 
And since vinyl fences are not as durable as cedar they are more prone to crack. 
Meanwhile, cedarwood is pretty durable, it can withstand the harsh situation pretty easily. But if anyhow the cedar fence shows big crack repairing that wouldn't cost as much as vinyl. 
Final Words
If natural look matters to you, then go with the cedar fence they look incredibly classy. But if a decent look will work fine then vinyl is a good option for you. 
If you are planning to make a vinyl fence make sure to keep in mind that the repairing cost will be heavy on your wallet. 
That being said, this is it! I hope this Cedar vs Vinyl fence comparison gives you enough information to decide. If there is anything I could do, make sure to comment below!