A wood sealer and stain both do the same job, protecting the wood. But yet, they are not the same!
Wood Stain Vs Sealer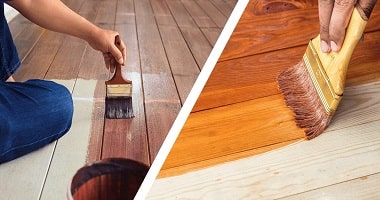 A sealer will add more gloss and depth to the wood stain. Wood sealer is also referred to as a protective coating that has superior durability and longevity when compared to wood stains. Wood stains are transparent liquids used to color wood. It fills in the porous gaps in the wood grain.
Whereas a sealer, when applied to wood, does not color the wood and is transparent. Rather than coloring the wood, it protects and seals it and provides a protective coating against the deterioration of sun and moisture.
There are a few things that differentiate these two. And if you are a homeowner who does most of the repairing jobs then you must know what's the difference between a wood sealer and a stain.
What is the best thing to seal cedar with and What is the best way to protect cedar?

What Is The Difference Between Sealer And Stain?
Stain is purely chemical. Stains penetrate the wood to color it, while sealers sit on the surface of the wood instead of becoming part of it.
stains are not as durable as sealers, but neither should be labeled "permanent." That's because UV rays can fade both stains and sealers over time, even if the finish has undergone the manufacturer's recommended period of drying.
A wood stain is a liquid containing dyes and coloring agents that is brushed or sprayed on unfinished wood to enhance the wood grain. a wood stain contains pigments 
A wood sealer is a clear liquid applied over a new or old finish to protect the natural wood surface from insect damage, heat, water, and sunlight exposure.
This is exactly what I am going to show in this very guide. 
I'll provide everything you need to know about wood stain and sealer, so without any more delay, let's dive right in!
Difference Between a Wood Stain and Sealer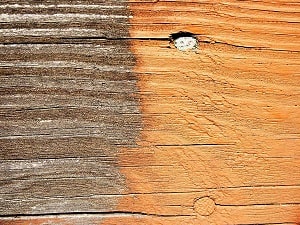 Quick Summary
Wood sealers are transparent and clear, they don't add any extra color to the wood. 
They show the natural grain of the wood, actually, they make the wood grain look even better. Protects the wood from water by ensuring the wood doesn't absorb water. 
On the other hand, the stain comes with pigment that protects the wood from the Ultraviolet ray which is extremely harmful to the wood. 
Stain can also be transparent but there are colored stains as well. 
How to stain wood different colors without bleeding.
Things you Need to Know About Wood Sealer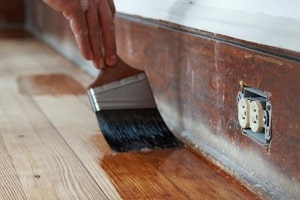 If I put it simply, wood sealers protect the wood from insects, moisture, precipitation, mold, mildew, and rot. 
All sealers are transparent but few have little shade of color. Some sealers enhance the beauty of the wood grain. If you are using a good quality sealer on cedarwood, it will make the wood look extremely attractive for sure. 
Since wood sealers don't come with pigment they cannot protect the wood from ultraviolet rays. This is the reason why many people do not prefer wood sealers because UV rays can harm the wood badly. 
It can turn the wood gray in no time. Plus, it dries out the natural oil of the wood which makes the wood crack, split, check later.
Now let me tell you How to Know if the Wood is Sealed or Not!
When the wood is sealed with a good quality sealer, water will bead. If the water gets absorbed by the wood that tells the wood isn't sealed well. 
Wood sealers work best for teak, mahogany, and cedarwood since the wood grains look extremely classy.
Moving on!
Types of Sealers
There are different types of sealers that serve differently. Below is a broad explanation of each!
Penetrating Sealers
Tang oil, Hemp oil, Waxes, Linseed oil, are called penetrating sealers. The best perk of penetrating is they penetrate deep into the wood and bring the luster out of wood. 
And protects the wood from weathering and moisture. This sealer enhances the look of the wood grain. Penetrating sealers can be applied by hand, brush, and roller. 
If needed the wood can be coated without sanding and stripping, this is another benefit of using a penetrating sealant. 
Coating Finishes
Compared to penetrating sealants, coating finishes give a little hard surface. Like the previous type, this one also protects the wood from moisture but as a bonus, this sealant makes the wood scratch-resistant as well. 
That being said, in order to get a good quality scratch-resistant wood surface, you will have to get your hands on a good quality coating finish.
Varnish, Lacquer, Shellac, these are some coating finish sealants, they are traditional and take time to get dried properly. Spar varnish is highly water-resistant, they are widely used in ship decks. 
However, there are modern alternatives to these sealants which are more durable than Shellacs and Lacquers. Not only that, some of these alternatives are even UV-resistant as well. 
Have a look.
Water-based
Water-based sealers are extremely easy to apply. They are absorbed by the wood so that they can seal better. Once dried properly, they protect the wood from moisture and rotting. 
However, in some woods, water-based sealers can swell the wood grains. Before you buy, check the compatibility. 
Oil-based
This sealant is also absorbed by the wood pretty well. It protects the wood from mildew, rot, and moisture. 
Advantages of Sealers
Transparent and makes the wood grain look classy.
Protects the wood from natural elements apart from UV-ray.
Repels water naturally. 
Disadvantages
Doesn't protect from UV-ray.
Takes a little longer to dry.
Things You Need To Know About Wood Stain
Wood stain is also the same as a wood sealer but stains protect the wood better from elements. Stains give protection from mold, rot, mildew, moisture, etc. 
And since wood stains come with color tint or pigment, they provide good protection from the Ultraviolet ray as well. And that protects the wood from turning gray and getting damaged by the sun. 
Like wood sealers, wood stains also come in a few types. There are water-based stain, oil-based stain, transparent, semi-transparent, and opaque. Here are the details of each. 
Types of Stain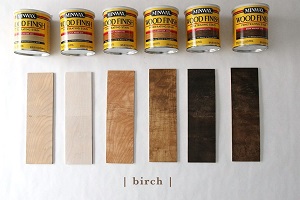 Oil And Water-based Stain
They are the same as the sealers. Water-based stain gets absorbed by the wood pretty quickly and seals very well so that moisture or insects cannot damage the wood. 
Compared to the water, oil-based sealers get absorbed a little slow for obvious reasons. But it also offers good protection. However, none of these provide protection from the UV-ray since they don't have any pigment at all, they are transparent. 
Semi-transparent Stain
This stain adds a little color to the wood but still allows the wood grain to peek through. These stains provide moderate protection from the UV-ray.
Semi-Opaque
These stains come with rich pigment which makes the stain provide good protection from the sun. Once applied to this stain, it will keep protecting the wood for at least 4 to 5-years.
Solid Stain
This stain comes with the richest color, and the wood grains are not shown at all. Provides incredible protection from the UV-ray and protects for 4 to 5-years.
Advantages of Wood Stain
Protects for a very long time.
Protects the wood from mildew, rot, and moisture. 
Doesn't let the sun damage the wood, blocks the UV-ray.
Comes in different color options. 
Disadvantages
Requires thorough cleaning before application. 
Wood grains hide. 
A couple of rounds of application are required for getting the right tone. 
Conclusion
So what's the difference between wood sealer and stain? If you are still here, that means you know the answer pretty well. I hope this helps.