A good saw is important for either DIYers or for professional use. The market is swarmed with different brands of chainsaws and DeWalt is a mentionable one. This brand has some of the best models for efficiency in work. Every user needs a product that they don't want to replace. When we consider products from DeWalt, there might be a dilemma to choose one from the two top models. Hence, the customers can analyze a comparison of DeWalt dwe7491 vs dwe7485 to learn more and decide which one is the best of the two and most suitable. 
The main difference between these two saws is in the stands and, of course, the blade size. While DWE7491 is more of a high-end model, DWE7485 is currently the newest version created. The former model has a 10-inch blade and a 32 ½-inch rip capacity, both of which are large. This upgraded one also has advanced safety features with a clear and easy controlling system. In addition, it is very easy to assemble even without a rolling stand. 
On the other hand, the DeWalt dwe7485 table saw was created to replace the DW745 model with the same size. But it doesn't have a 10-inch blade and is much smaller than DWE7491. The rip capacity is, however, high at 24 1/2 inches to cut around a 48-inch sheet of plywood.
It also runs smoothly at 5800 RPM so this is a greater upgrade from older models. Since this is smaller and lightweight, it can work for cost-effective and simpler tasks. Learn more from the DeWalt table saw dwe7485 review.
Dewalt dwe7491 vs Dewalt Table Saw dwe7485:Difference
| | | |
| --- | --- | --- |
| Features | DeWalt DWE7491 | DeWalt DWE7485 |
| RPM | 4800 | 5800  |
| Rip Capacity | 32 ½-inch | 24 ½-inch  |
| Blade Size | 10-inch | 8 ¼-inch  |
| Purpose | Heavy-duty work | General tasks |
| Motor  | Bigger and powerful at 15 AMP | Smaller |
DeWalt Table Saw DWE7491 Review
The DEWALT DWE7491 is a professional table saw with excellent features and high-quality materials. It is easy to set up and disassemble due to the rack and pinion fence system.
We get a 32-1/2 inch rip capacity at 4800 RPM which is powerful to cut through various strong materials, regardless of the thickness, like shelves and trim materials. It also has a 15 amp motor for faster cutting through hardwoods. 
The dwe7491 fence rails help with narrow rip cuts and reach a depth of 3-1/8 inches at 90 degrees and 2-1/4 inches at half the angle. In addition, there is a dust collection port to keep the work clean. 
As we work on the 26-1/4 inch X 22-inch table, the saw remains in a rigid position. Overall, this is a sturdy product with easy controls and safety and is also portable. 
Key Features
Easy to set up with necessary items included in the package. 
It has a Rack & Pinion Telescoping Fence System to adjust the table and saw quicker, and more accurately.
The table included keeps the saw stable and in a rigid position for better performance.
A 15.0A high torque motor is suitable to cut stronger materials like treated lumber and hardwoods.
This is a safe and durable table saw with straightforward controls suitable for tough and heavy-duty job site situations. 
What Kind Of Motor Does A Dwe7491rs Have?
The DWE7491RS table saw has a powerful motor running at 15 Amp with 2hp. To support this power it also has the components and adjustments that will ensure that the saw is safe and efficient to use. By using this motor, we can easily cut through strong and large materials faster and accurately. 
What Is The Rip Capacity Of A Dwe7491rs Table Saw?
Along with the powerful motor, the dwe7491rs model has a 32-1/2 inch rip capacity that facilitates heavy-duty cutting tasks. So, this product can cut through different large size shelving and trim materials. Due to the table provided for support, the saw works smoothly and cuts narrow rips. 
Is The Dewalt Dwe7491 Still Available In The Us?
While the newer versions are commonly used and widespread in both the US and Europe, we can still find the dwe7491 model in the US. Many places have discontinued the purchase after the updated versions. But the older version is also effective with an improved blade for use by many people.
What Parts Are Bolted On The Back Of The Dwe7492?
On the back of the dwe7492 table saw, there is a 20mm wide part bolted.  In addition, it has different feet that stretch out on the side of the machine. This arrangement provides support on the table while the saw is running. 
Can You Buy Dwe7491 Without A Stand?
Although a stand is very convenient, we can buy the table saw without the rolling stand. In that case, the product will need some other arrangements to make a support. The user can make any anchoring with hardware items so that the saw won't slip off the table.
How Accurate Is The Dewalt Dwe7491rs?
DWE7491RS is popular among users for its accuracy in cutting through materials. Since the product includes a rolling stand for offering strong support and rigidity for the saw to place, with the speed and Rip capacity, it can run smoothly to make an accurate cut even with clumsy hands.
What Is The Difference Between Dwe7491 And Dwe7491rs?
The difference lies mainly in the blades and the stand provided with the table saw. DWE7491 is a basic model with no folding stand. But DWE7491RS has a rolling stand for support. It can also be folded after use to store and carry easily. 
What Is The Difference Between Dwe7491 And Dwe7492?
Both the versions are quite similar in structure with almost the same blades and features. However, the DWE7492 is a newer model with some upgrades. This makes it perform more efficiently than the previous one at a quieter speed. It is also lightweight to work on for hours without discomfort. 
Dewalt Table Saw Dwe7491 Features
Dwe7491 Fence Adjustment: The fence is measured out carefully with a dial indicator on the meter gauge. Then the bolts are used on four sides to clamp in place accurately and tightly for the perfect alignment. 
Dwe7491 Fence Upgrade: For fence upgrades, use the newest models with different rip capacities and sizes, like dwe7491 rs. In addition, check that it is more accurate and easy to handle. 
Dwe7491 Fence Parts: The parts include washer, screw, clip, strap, rail, nut, pointer, cap, pin, locking device, table, spring, adjuster, bracket, knob, rod, locking ring, bearing block, cable, guard, plate, cord clamp, handle, o ring, retainer, bushing, arbor, armature, field case, buffer, grommet, shaft, mount, dowel, cast, etc.
Dwe7491 Fence Knob: The DeWalt table saw adjustment knob offers support with the extra rise above the fence. It is easy to set and works as a replacement part. 
Dewalt Dwe7491 Fence Storage: This product comes with a table that will offer onboard storage for the fence and other parts as well as the DeWalt dwe7491 zero clearance plate.
Dewalt Dwe7491 Rip Fence: By using the rip fence, we can make accurate measurements to make narrow cuts or reach depths. It lies parallel to the saw blade.
Dewalt Dwe7491 Fence: This fence is replaceable and provides support for accurate performance. We can adjust the fence without any extra tools.
Dewalt Dwe7491 Replacement Fence: DEWALT 514013598 fence is made of quality materials to provide support and can be bought separately to work as a replacement fence for the dwe7491 model.
Dwe7491rs Fence Upgrade: By replacing dwe7491 rs with dwe7492 rs, the user will get an upgraded version with almost the same features, but with better features and more accuracy. 
Dwe7491rs fence: We can get an auxiliary fence for this model that comes as a replacement part. It doesn't need any extra tools to set on the table, simply is pushed and placed. 
Dwe7491rs Replacement Fence: DEWALT OEM N638742 is a replacement fence for table saws, that can work well for the dwe7491 rs model as well. 
Dwe7491rs Fence Alignment: Use a gauge meter with a dial indicator to make accurate measurements. Then place the fence on the measured area to screw it down. Now the fence is aligned for cutting with the saw. 
Dwe7491rs Fence Adjustment: The miter is used to face the fence in a parallel position to each other. This will help to adjust the fence in the precise measurement. 
Dewalt Dwe7491rs Lowest Price 
This model is in the medium range with the lowest price starting at $554.59.
Dwe7491rs Lowest Price In Canada 
The lowest price at present stands at $729.00 in Canada.
DeWalt dwe7485 Review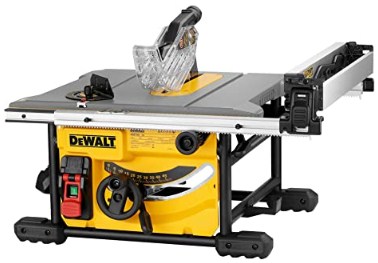 The DeWalt DWE7485 is a handy item for all kinds of users. It has a large size table for work with an 8 1/4-inch blade to cut through different materials easily. Besides, the depth reaches 2-½-inch at 90° and 1-¾-inch at 45°. We get onboard storage to assemble the blade, and also place the wrenches, miter gauge, riving knife, anti-kickback pawls, and push stick.
This is also developed for accuracy with fence support and other excellent features. For efficiency, the motor in this one runs at 15 amp, along with 5800 RPM speed for various applications.
Another great thing is that this one also has a rack and pinion fence that makes easy and quick adjustments. So, we can rip 4×8 sheet goods with the given capacity. In this dwe7485 table saw review, we can say that it is quite powerful as a small and portable machine. 
Key Features
It has similar features with other larger and previous models, yet is compact for storage, and also, portable.
We can adjust the fence easily and accurately with the rack and pinion telescoping fence rails.
Due to the blade size, we get a rip capacity of 24.5 inches to cut plywood or OSB sheets.
The motor runs powerfully at 15 Amp and 5800 rpm but quietly cuts easily. 
This one is made of durable materials and comes with onboard storage for the guarding components and push stick.
Dewalt Dwe7485 Specs
Motor: 15 AMPS 
AMPS Arbor: 5/8 inch 
Blade Diameter: 8-¼ inch  
Depth of Cut at 45°: 1-3/4 inch 
Depth of Cut at 90°: 2-9/16 inch 
Dust Port Diameter: 2.5 inch
Max Rip To Left of Blade: 12 inch 
Max Rip To Right of Blade: 24.5 inch 
No-load Speed: 5800 RPM 
Tool Height: 13 inch
Tool Length: 22.75 inches
Tool Weight: 46 pounds
Can I Use A Dado Blade On My Dewalt Dwe7485?
We cannot use a dado blade on the DWE7485 table saw, even though it works for other DeWalt models. This is because the blade size of this table saw is smaller than 10-inch.
What Size Blade Does A Dewalt Dwe7485 Take?
The Dewalt DWE7485 table saw has an 8-¼-inch blade. Even with a small blade, it works powerfully with various excellent parts like a riving knife, fence, miter gauge, and many others.  
What Replaced The Dw745?
DW745 model has been replaced by DWE7485 but is still used by many. It was replaced as it didn't have a 10-inch blade anymore even though it features the same as a DWE7491.
Can You Add A Dado To A Dewalt Dwe7485?
A dado stack doesn't work with the DWE7485 table saw due to the smaller blade. This is because the arbor and other parts aren't compatible to support a dado blade. 
Can You Use A Dado Blade On A Dw7444?
We can add a dado to the dw7444 version but it may not go much further than 3/8 of an inch. So, even though it is easy to add the dado, it may not be very effective due to the back tightening nut and flange.
What Is The Blade Size On The Dwe7485?
A blade size of 8 ¼-inch is used in this table saw with a diameter of 210mm. In addition, the blade bore is 30mm and the ripping capacity of 622mm provides high power for cutting. 
What Is The Difference Between A Dw745 And A Dw7485?
While DWE7485 is a new model, it has the same features as the DW745 and was made to replace the older version. It is also the same size but not with a 10-inch blade.
Dewalt Model Dwe7485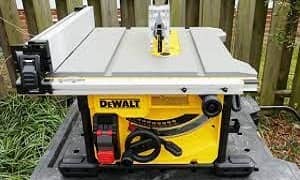 As found in several DeWalt dwe7485 compact table saw reviews, this new model uses an 8.5-inch blade with a 24.5-inch rip capacity. So, it can easily break down plywood sheets. This is also easy to control and adjust with the necessary parts included in the package. This is a small and powerful tool that can be used by both hobbyists and professionals. 
Dewalt Dwe7485 240v Cheapest Price
The DWE7485 model with 240V costs $514.00 currently as the cheapest price.
DeWalt dwe7485 instruction manual
Dewalt 7485 Qs Prezzo
In Prezzo, The DeWalt 7485 qs Stands at 472,10 €.
Dwe7485 Dado
Unfortunately, the DWE7585 model cannot use a dado blade as it is much smaller than other models with an 8 ¼-inch blade. Besides, the arbor is also small, and a plastic piece interferes with a dado stack. 
Dewalt Table Saw Fence Problems
Most users face the problem with the locking mechanism, where the rack and pinion of the fence system may tighten over time. Even with careful adjustments and maintenance, the fence locking system causes issues for which the fence may get crooked. In that case, the measurements on the miter will not be accurate.
To solve such problems, some pins can be used on the rails to push the lock downwards. Then the link in the level along with a spring system will adjust the lock. The users can also try to tune the locking system whenever needed to fix this problem as well. 
Featherboard for Table Saw Review
Can you cut vinyl flooring with a miter saw?
Frequently Asking Question
1. What Is The Lowest Price For Dewalt Dwe7485?
Currently, the price of the dwe7485 table saw stands at $299.00 which is the lowest price. For this reason, this machine is considered as one of the cheap ones with excellent features. 
2. What Is A Dwe7485 Table Saw?
The DWE7485 is a compact table saw for Jobsite with an 8-1/4 inches blade with a 5800 rpm motor for powerful performance. It can easily cut through several piles of different materials and is easy to store with an onboard for different parts. 
3. What Can You Do With A Dewalt Table Saw?
Any DeWalt table saw, regardless of the blade size, is suitable for various applications. Mostly, people use a table saw for ripping, cutting boards, joints, rabbets, or grooves, crosscutting, kerfing, and so on.
4. Is Dewalt Dwe7485 A Good Table Saw?
According to various DeWalt dwe7485 reviews, we see that although the table saw may not offer very precise cuts with a small blade, it is very easy to store and carry around. Besides, this saw is also capable of making accurate cuts for pieces of lumber and is very efficient with its features. 
5. What's The Difference Between The Dwe7485 And Dwe7480?
The main difference is in the blade size, where the DWE7480 has 10-inch diameter blades and the DWE7485 has 8 ¼-inch diameter blades. So, the former version is very powerful with a large rip capacity than the other one. But the new model is getting more popular since the older one is quite bulky. 
6. Why Choose The Dewalt Dwe7485 Modular Guarding System?
A particular feature is desired to make the product simpler to assemble or adjust. Hence, we check that the dwe7485 table saw has a modular guarding system to adjust the guarding without any tools. 
7. How Many Amps Does A Dewalt Table Saw Have?
An efficient table saw needs more than 17 amps to operate powerfully and provide accurate cutting. Even though different models are seen to have different amps, most DeWalt table saws have around 15 amps motor on average with at least 2 hp.
Conclusion On Dwe7491 Vs Dwe7485
In between dwe7491 and dwe7485, we see that although they differ in various features, both of them are very effective table saws. The difference is mostly in their structure and size whereas dwe7485 is an upgraded version. It was made for convenience as a smaller but powerful table saw. Even if it doesn't provide the accuracy and power as the dwe7491 model, it is still a good choice. So, the one table saw that the user will decide on will depend on their needs and preferences.